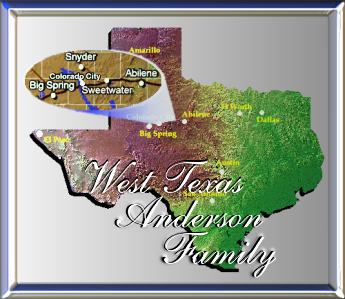 John Luther ANDERSON was born Iatan, Tx 6-13-1894. John died 11-24-1980 Colorado City Rest Home, at 86 years of age. John was the son of James Samuel "Jim" Anderson and Lucy Rigsby.

He married Mintia I "Mittie" SMITH 7-27-1912, at Big Spring, TX. Mintia was born 3-23-1896. Mintia was the daughter of William Ansyln "WA" SMITH and Millie WILLIAMS. She later married Bob BERKLEY. Mintia died 11-8-1961 Malone and Hogan Hospital, at 65 years of age. Her body was interred Mount Olive Cemetery Big Spring, TX.




John Luther and "Mittie" had the following children:



Raymond Paul ANDERSON was born 9-29-1913 and he married Violet Annne Reed in 1946. His body was interred 8-30-87 Big Spring, Tx, Memoral Park. Violet was born Olka. They had 3 children. See Raymond's military record. Violet died March 17, 1998.
Luther Ferrel "Bud" ANDERSON was born 12-15-1915 married Vera Dell Neal and they had six children. Luther "Bud" died 3-27-1995 Coahoma, Texas, at 79 years of age. Vera Dell Neal Anderson died January 20, 2002.
Viola I ANDERSON was born 1-23-1919. Viola died 3-27-1976 Wisconsin, at 57 years of age. Her body was interred Mount Olive Cemetery, Big Spring, TX. She married "Freckles" BONNEAU. They had no children.
Millie Juantia ANDERSON was born 2-19-1922 and she married George Behne and they had two children. Juantia nd George both died at Monahans, Tx. Their bodys were interred at Monahans Tx.
Duron S. "Lewi" ANDERSON was born 2-27-26. Lewi had one female child.