Robert RIGSBY born 1797 is the son of William RIGSBY and Lucy ADAMS.

Robert married Lydia KIRKENDOLL 15 JUN 1826 in Garrard CO KY. Robert & Lydia are in 1860 Rockcastle Co Census.
Children of Robert RIGSBY and Lydia KIRKENDOLL are:
James RIGSBY born 1829 married Sarah STARNS.


Mary Jane RIGSBY born 1832 married 7 AUG 1860 Greenberry SPOONAMORE.


Sarah Ann RIGSBY born1835.



Robert Thomas RIGSBY

born 1838 married 11 APR 1859 to

Elizabeth MURRAY

.

Robert Thomas Ribsby
photo: Kate Cain-Rigbsy-Bynum

Lydia RIGSBY born 1840.


Elvira RIGSBY born 1841.


Richard RIGSBY born 28 Aug 1846 died died July 3, 1927. Richard married (1)Virgina Jane Murray, LEWIS, (2) Fannie Jane BURTON.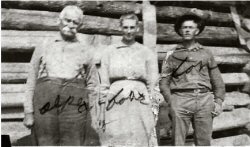 Left: Richard (Dick) Rigsby, believed Fannie Jane
Burton and first wife's son Tom Lewis.
Photo and information: Kate Cain-Rigsby-Bynum




Information furnished by: Barbara Holland luckybarb@myvine.com