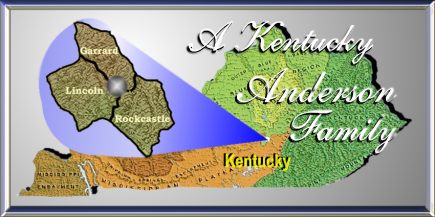 Levi ANDERSON was born in VA 15-OCT-1806. Levi died 7-APR-1876 in Garrard Co. KY, at 69 years of age. While Levi was born in VA his parents moved to Garrard County, Kentucky in 1807. Levi was the son of Archelus and Elizabeth (PARRISH) ANDERSON.


He married Nancy NAYLOR 26-SEPT-1829, Garrard Co. KY. Nancy born 10-OCT-1807, Albemarle Co. VA was the daughter of Edward B. "Edmund" NAYLOR and Jane (Jenny) BALLARD. Nancy died 14-APR-1876 Garrard Co. KY, at 69 years of age.




Levi and Nancy had the following children:



Samuel D. ANDERSON was born 1830.


Sarah J. ANDERSON was born 1832 married Willis BELL.


William D. ANDERSON was born 1834.


Eli P. ANDERSON was born 1837 married Margaret STAMPER.


George P. ANDERSON was born 9-NOV-1839, died 18-AUG-1862.


Eliza A. ANDERSON was born 1843 married David COLESON.


Nancy C./E. ANDERSON was born 29-MAY-1843 married John ADAMS. Nancy died 3-JUL-1917.

"Hi Ray, earlier this year we talked about the Anderson/Adams line. Nancy C Anderson, dau of Levi, was a gg grand mother. I have some new info about her that I want to share with you. Nancy died in Lincoln Co, KY on July 3, 1917. She is buried in the Buffalo Springs Cem., Stanford, Lincoln Co., KY. She was born May 29, 1843. Nancy is listed in the 1900 Lincoln Co., KY census. What was surprising is that also listed is a son, Lewis, age 12. This is the first indication of another child Her son, Walter- a g grand father is list in the 1900 Ky census in Crab Orchard, Lincoln Co., KY. He is listed as a blacksmith. My grand father, William is listed also. I have ordered a copy of the DC- hopefully it will give some more info. Still haven't found John Adams."
Thomas Adams <druks@earthlink.net> 10-17-2003


Jemima ANDERSON was born 1845 married John LAWRENCE.


Mary S. ANDERSON was born 1847 married 9-DEC-1873, KY to Levi Pierce Anderson born 5-FEB-1848, Lincoln Co. KY, and died 27-DEC-1945 Levi was the son of William Anderson and Winnie Jane Chapel. Levi was Garland Anderson's grandson. (not to be confused with Mary S.'s brother below)


Levi Pierce ANDERSON was born 1848.